Hello From Our Faith Council!
Faith Council Confirmation Prayer—By Alexandrea
O God,
May we ask you to fill us with the Holy Spirit, enabling us to renew the face of the Earth. May all the people of the world use faithfulness and generosity as your Son, Our Lord, did. We hope that all of your people rejoice in happiness and joy. Please give us the same fire you gave your followers, the Apostles of Christ, on Pentecost so we may be truly wise in our faith. We all wish to become one of your true disciples and always think of others and how you feel. Give us the knowledge of your faith that we may learn from you and give us the gift of piety. If one will ever insult you, O lord, we shall use the gift of fortitude. May all the saint's chosen today guide us through our lives as you did them. Soon we shall all be you true disciples.
Through Christ Our Lord, Amen
Catholic Values & Virtues Awards

Our focus this half term is about how we can grow to become 'Eloquent & Truthful'.
Colossians 4:6
"Let your speech always be gracious, seasoned with salt, so that you may know
how you ought to answer each person."
By developing an eloquent languagepupils can understand and articulate their emotions, beliefs, and questions,to be truthful in the way they representthemselves and speak about the world.
Catholic Values & Virtues Awards

'Eloquent and Truthful'
The focus of the prayer life of the school this half term will be on how we grow to be more eloquent and truthful in what we say of ourselves, about one another and about the world we live in. Children will be encouraged to understand and articulate their emotions, beliefs and questions and to be truthful in the way they represent themselves and speak about the world.
The results of each Weekly Awards are always published in the Weekly School Newsletter
Well done to all these children who have set such a good example to others in school
Week 2 - September 10th

Year 1 - Lavinia

Year 2 - Arias

Year 3 - Keyur

Year 4 - Daniel

Year 5 - Exaudi

Year 6 - Jayden

Week 3 - 24th September

Year 1 - Maya

Year 2 - Keighan

Year 3 - Niyah

4 - Freyah

Year 5 - Vanessa

Year 6 - Zachary

Week 4 - 1st October

Year 1 - Melissa

Year 2 - Arayna

Year 3 - Eduardo

Year 4 - Holy Communion children

Year 5 - Daniella

Year 6 - Daniela

Week 5 - 8th October
Year 1 - Lana

Year 2 - Xiaoan

Year 3 - Angela

Year 4 - Aryan

Year 5 - Yabsera

Year 6 - Beniam

Week 6 - 19th October

All pupils in every class have been
selected this week.

They showed
fantastic attitudes & behaviour

when our RE Inspectors were in
school. They also
displayed many of the
Catholic Values & Virtues which so
impressed the RE Inspection team.
Well done everyone!!
Y2 Class Mass - St. Francis
Friday 8th October
Today, Year Two walked to St Catherine of Siena Church to celebrate their first class Mass of the year. It was especially nice to be sat in Our Lady's Chapel, since October is the month of the Holy Rosary. During Mass, we heard an introduction about St Francis' feast day, which was on Monday. Father Mario's homily taught us that St Francis was a very kind and helpful man, who liked to talk with animals. We were encouraged to think about how we help others, including animals, within our own lives. We enjoyed listening to children from our own class read special extracts of holy scripture, along with bidding prayers which they wrote themselves. We left Mass feeling happy and peaceful because we had spent the morning in the presence of Jesus. Now, we can't wait for the next one!
Y5 Class Mass - Our Lady of Walsingham
Friday 24th September
Year 5 celebrated a Class Mass with Father Mario Kurapati this morning in the Lady Chapel.
The children learned about the
vision that was seen of the Virgin Mary and that a shrine was built in honour of the Annunciation
Year 4 Class Mass -
St Matthew The Apostle
Friday 17th September
This Friday Year 4 celebrated mass in the Lady Chapel with Father Mario. Todays mass was focussed on St. Matthew the Apostle. Thank you to Mr Woolman for preparing the readings and well done to all the children for their reverence during mass.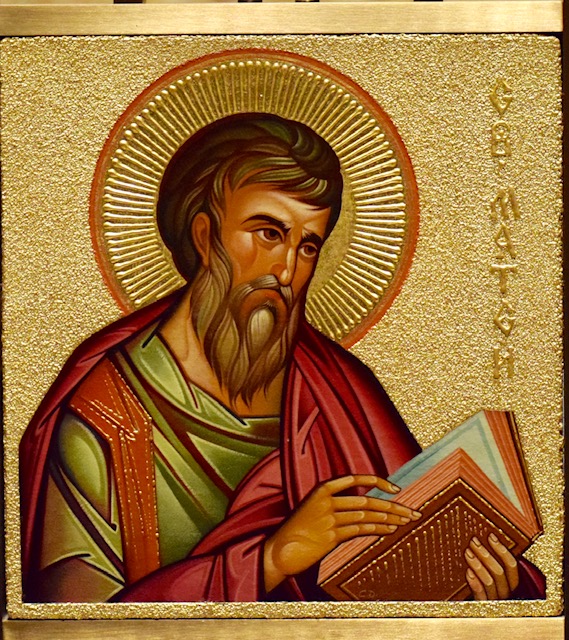 Faith Council Advent Prayer
Help us to prepare and use the time of advent wisely. We pray that each week we will be more prepared than ever. Each week we add another light and our hope for Jesus grows brighter. We pray, we share, we do our part—to welcome Jesus into our hearts.
Feast of St. Catherine of Siena
Monday 29th April 2019
This is a very special day in the life
of our school and it will start with a
whole school mass at St. Catherine's
Church. During the afternoon
classes will come off their normal
timetable and instead will take part
in cross curricular activities linked
with our patron saint. St. Catherine.

As we all know St. Catherine was from Siena in
Italy and therefore we will be asking pupils and
staff to wear the colours of the Italian flag on
this day - Green, white and red.
Y3 Class Mass - Guardian Angels
Friday 1st October
Year 3 and Father Mario Kurapati celebrated a Class Mass this morning in the Lady Chapel.
The children learned about the
importance of looking after one another and by doing this we can grow closer to Jesus in our lives as
we live, learn & grow in God's love.