Y3 Learning At Home
Lessons and Messages from Mr Taylor x
Remember! There's lots more activities to keep you out of mischief on the LEARNING AT HOME page! ENJOY!
* Free Online Lessons from Oak Academy *
SEN Resources - Please find some resources and links that may be useful when supporting your child at home with their learning.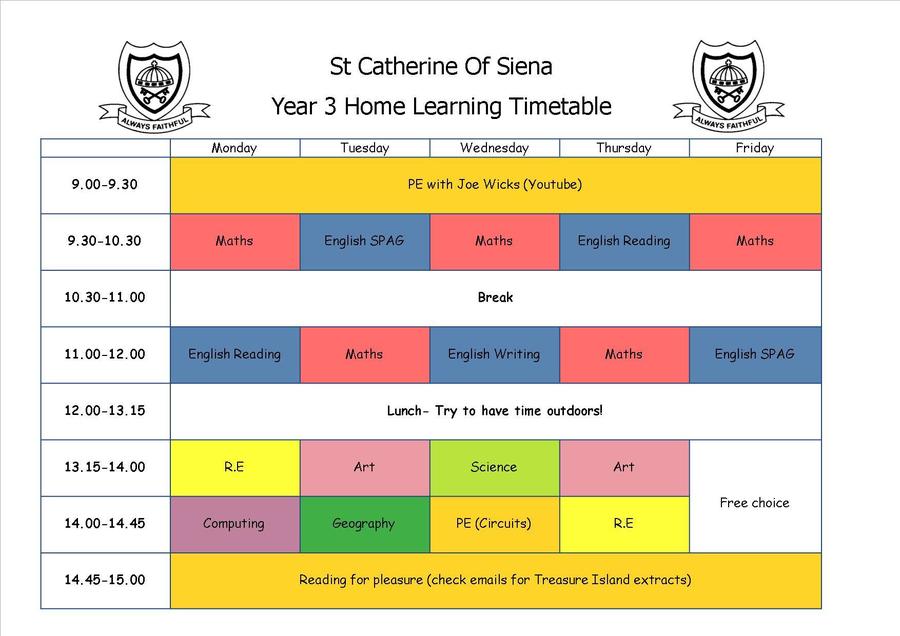 Hello Year Three
I would like you to follow this timetable while you are learning from home.
Science
In the final half term, we would have studied the topic of light. I would like you to do an experiment to answer the following question...
Is my shadow longer in the morning, or is it longer in the afternoon.
First, make a prediction. Do you think it will be longer in the morning or afternoon? This is your hypothesis, or what you think is going to happen.

Next, design an experiment! How can you test your hypothesis? What can you do to answer that question?

After that, you need to make a list of all the equipment you will need to carry out the experiment.

Once you have all the equipment, carry out the experiment!

Finally, you need to write down your results? Was your hypothesis correct?
Art
For Art I am setting a challenge. You can draw anything from around your house. Use any colours you like, or no colours. Once we are back in school, I will have a prize for the best drawing that someone shows to me.
Computing
For computing, we will be learning about e-safety. I want to have a think about passwords.
For the first task, make a list of as many different things that you would need a password for. Try to think of at least 5 things, but write out as many as you can.
Once you have your list, here are some questions about passwords to answer. Try to work out the answers first, and if you get stuck then you can use the internet, or ask an adult to help you.
What passwords do you think are really common?

Should you tell anyone what your passwords are?

What do you do if someone finds out what your passwords are?

How can you make sure your passwords are hard to guess?

Why should you have lots of different passwords for lots of different accounts?

How often should you change your passwords?
Finally, here is a link to a website where you can check how strong your password is. If you type in a password, it will tell you how long it would take a computer to figure out your password. The longer it takes to figure it out, the stronger the password is.
If your passwords are easy for the computer to figure out, try changing them to something stronger. What ideas do you have about how you can make your passwords stronger?
This week we will be focusing on counties. This is different to the word countries. A county is a small region of land inside a country. The county we live in is called the West Midlands. For your task this week, I would like you to find the West Midlands on a map, as well as some counties that are close to the West Midlands, such as Worcestershire, Warwickshire, Leicestershire, Staffordshire and Shropshire. Find all of those counties on this map.
Once you have found them, I would like you to find out some information about each of them.
What is the biggest city in that county?

How many people live in that county?

One interesting fact about that county.
For an extension, do the same thing for the counties of Greater London and one other county that you can find.
Geography (Half Term Work if you're looking for something to do!)
For Geography, over half term, I would like you to find out about the way in which London has grown over the years. Create a timeline of key events in London's history. I have written out some key years in London's history to help you. After each year, write a key event from the past, using the internet to help you.
Between the years AD 43 and AD 60
Between AD 450 and AD 1066
Between AD 1066 and AD 1485
Between AD 1485 and AD 1603
Between AD 1801 and AD 1900
Between AD 1901 and AD 1939
Between AD 1939 and AD 1945
Between AD 1950 and AD 1969
Between AD 1970 and AD 1989
There are a lot of different time periods here, spanning nearly 2000 years, so please don't try to do all of this in one go. You have 2 weeks before the Geography section is updated, so take your time and spread them out.
RE
Last week (29th June) was the feast day of St Paul. I want you to research the story of St Paul and the road to Damascus. Once you have a good understanding of the story, you can write a diary entry from the perspective of Paul, to show your understanding of the story.
St John The Baptist Activity (week commencing 15th June)
As you may know, Wednesday 24th June is the feast day of St John the Baptist. I would like you to find out 5 facts about John the Baptist that you didn't already know. Don't just write down 5 facts that you knew already, find out 5 new ones on the internet!
Sacred Heart Activity
For your RE home learning, I would like you to find out about the 'Feast of the Sacred Heart'. Use the internet to answer these questions:
When is the Feast of the Sacred Heart?

What does it celebrate?

What are the 12 promises of the Sacred Heart?
Once you have answered these questions, I would like you to find a picture of the Sacred Heart. It is very distinctive, and features a heart with thorns surrounding it. Sometimes it is shown to be on fire, and sometimes it is shown to have a cross on top of the heart. I would like you to research the meaning of each of those symbols and find out what they mean.
| | |
| --- | --- |
| Once you have done all this, try to draw the Sacred Heart. | |
Maths
Alongside the pack of work for mathematics you also have TT Rock Stars to help keep your maths skills sharp. Make sure you're using these too! The maths work will be updated weekly. Also Please use the link to White Rose Maths - Updated Weekly so make sure you click on the link below for the New Lessons
Home Leaning Pack / Answers (w/c 6th July)
Home Leaning Pack / Answers (w/c 29th June)
Home Leaning Pack / Answers (w/c 22nd June)
Home Leaning Pack / Answers (w/c/ 15th June)
Home Leaning Pack / Answers (w/c/ 8th June)
Home Learning Pack / Answers (w/c 1st June)
Home Learning Pack (w/c 18th May)
White Rose Maths (updated weekly)
Previous Weeks work
English
Week Commencing 11th May
Please focus on the English Activties in this pack, the Maths can be used as an extra/extension to your main Maths work from White Rose (see link above)
Previous Work
For the next few weeks, we will be reading the Lion, the Witch and the Wardrobe. Please watch the video on Mondays and Thursdays and complete any work set around those videos!
(Apologies there is no Answer Booklet for these questions)